Estelle Brettman (1925-1991)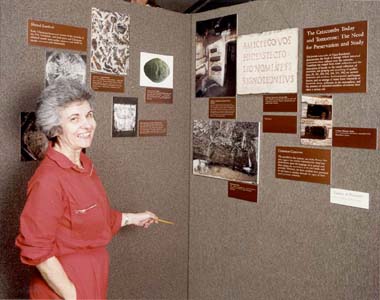 The fragility of the ancient material and the loss that had already occurred of valuable monuments, with all that they could teach us, disturbed her. With characteristic energy and determination, she undertook to awaken people to a cause that few might have been concerned about until Estelle touched them with her vision.


The International Catacomb Society grew out of her heart, her home, and an ever-widening circle of friends that eventually included every creed, class, and interest. It was their dedication, for which Estelle was enormously grateful, that helped her to build the Society and bring the exhibition "Vaults of Memory" to reality.


Estelle spent some of her happiest times in Italy. The beauty, history, and language, the Italian temperament, and the close friendships she formed, made her feel at home. The Italians seemed to respond to her with equal warmth. Her brilliant dark eyes, sparkling with enthusiasm, the quick smile and confiding manner that implied her trust in the listener's readiness to be a friend and make her happy no matter what she asked, seemed to speak to them as clearly as her spoken words in the Italian language. The help and consideration she received from the Vatican, the Antiquities Service, and the innumerable individuals who became supportive friends made her research and accomplishments possible. One of Estelle's great missions was to pass on the knowledge she so delighted in gathering. With her exhibitions, she hoped to get us all to understand how much more we have in common, as people of good will, than there is to separate us.