The Peacock as Celestial Transport
In Roman art, the peacock was shown in scenes of apotheosis, bearing the imperial ladies to heaven; for Christians, the splendid bird denoted immortality. The spread plumage of the peacock's tail, with many "eyes" on the feathers, evoked the vault of heaven.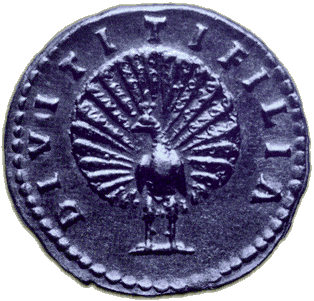 Apotheosis of an Imperial Lady
141. On the obverse of an aureus struck during the reign of Domitian, 90 C.E., a peacock is surrounded by the legend DIVI TITI FILLIA (daughter of the deified Titus). London, British Museum.